Premium Audio for Professionals
---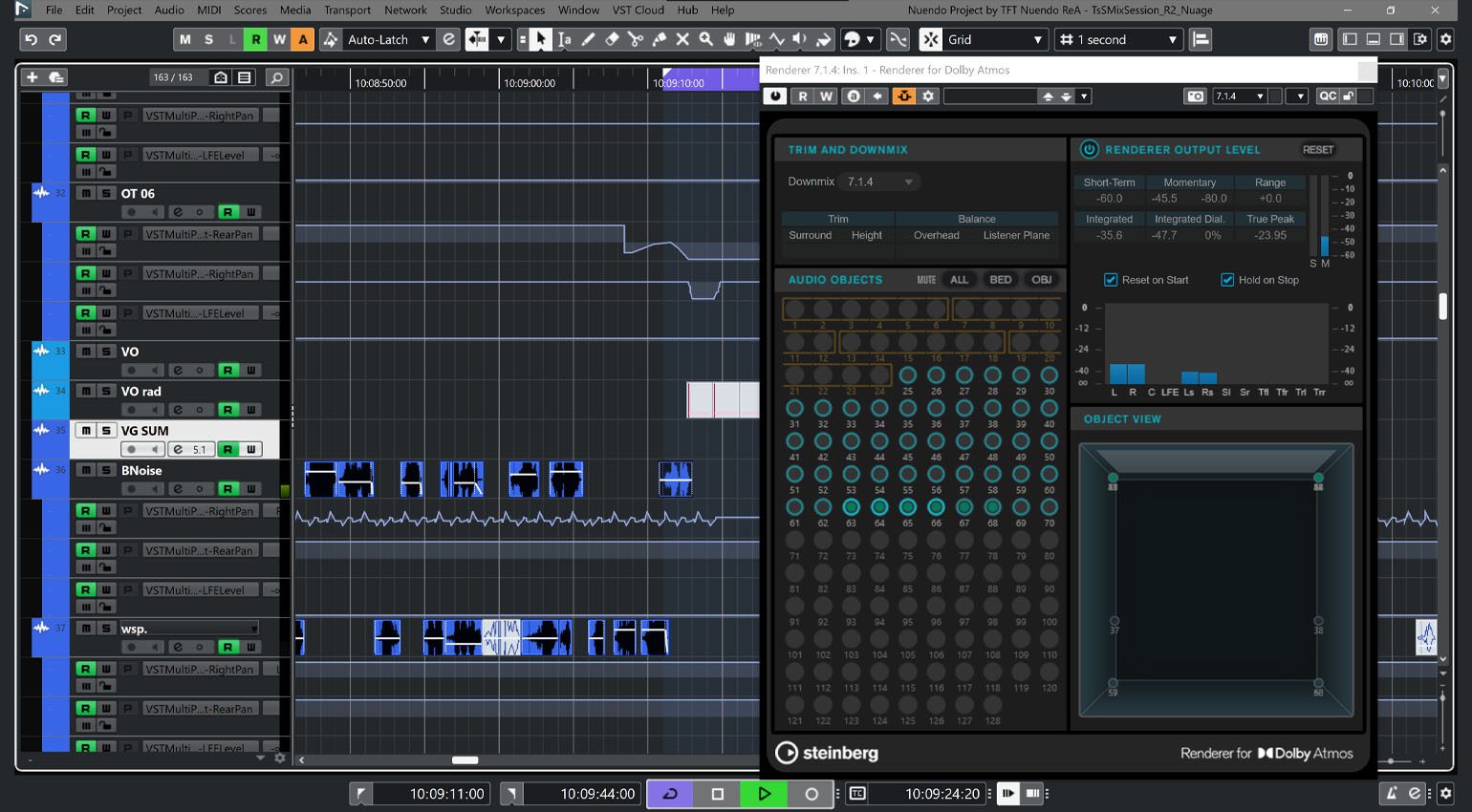 WHAT IS NUENDO?
As the most advanced audio post-production solution available, Nuendo is the choice of film, TV, game audio and immersive sound industry professionals worldwide. Ever since its initial release, Nuendo has been a vital tool in creating the soundtrack to many high-profile productions, products and installations. Regular updates with new features, workflow improvements and additional, user-requested functions mean that Nuendo constantly exceeds the expectations of an audio workstation dedicated to audio post, with high end — often unique — capabilities that continue an ongoing revolution in audio and media production software.
POST PRODUCTION
THE PREMIUM SOLUTION FOR AUDIO POST-PRODUCTION
Nuendo is the premium solution for audio post-production. Whether it is for film, TV, commercials or corporate movies, the feature set enhances every aspect of your workflow, allowing you to concentrate on the important production tasks and leaving the tedious manual work to be taken care of by Nuendo. From preparing your project and importing raw data, through dialog editing, sound design and mixing to delivery – even if composing music, ADR or reconforming are needed, – Nuendo includes the best solutions for every production task right there in-the-box.
Import Data and Preparation
Importing data from other software can be risky and bring unexpected challenges. This is why Nuendo's compatibility with AAF files is not only approved for major non-linear editing (NLE) systems, but it's very reliable and is being constantly improved with every new version. Nuendo also supports all major video codecs and formats, in case the video file is delivered separately. It integrates a powerful search and match functionality for Field Recorder audio files, allowing you to easily access the best quality audio takes available. Many other functions allow you to easily keep the original data inside the project for safety, although hidden and deactivated.
Dialog Editing
Dialog editing is one of the most important tasks in post-production. From assignable key commands and creation of macros, via surgical clip editing or multichannel group editing, automatic audio alignment and comprehensive fade editing, to extremely flexible offline processing capabilities, Nuendo has a solution for every challenging task that you can think of. A plethora of high-quality audio effects and processes are included, external editors can be seamlessly connected, multiple selected events can be processed at once and many options are available to organize thousands of clips and tracks. Super quick editing functionality and many other problem-solving features will make your life much easier, when editing in Nuendo.
Music Composition
It may not be a post-production task per se, but music is a big part of the final mix for a film or video. Sharing the same development code as Cubase – one of the world's best music production platforms available today – all of Cubase's music production features and capabilities are included in Nuendo. With superb composing, recording and MIDI functionality, a huge collection of sounds, loops, presets, instruments, libraries and effects, as well as support for the tens of thousands of 3rd party VST plug-ins, Nuendo can be used to produce world class film music by itself, or to seamlessly import a Cubase music project and merge it with the rest of the post-production project.
Sound Design
Creative work is another one of Nuendo's strengths. With many included sound effects, innovative VST Instruments and high-quality effect processors, Nuendo is an extremely powerful platform for sound designers. The integrated MediaBay makes finding the perfect sound from thousands of files very quick and easy, while the Sampler track, sound Randomizer and VoiceDesigner help to make creating completely new sounds from existing ones a breeze. The flexible offline processing and render-in-place capabilities in Nuendo will keep the MixConsole free for the mixing stage and, should a new video cut arrive at any time, Nuendo's integrated ReConforming solution will automatically re-align your files to the new cut, so you can immediately pick up where you left off.
Automated Dialog Replacement
Whether used to dub a film in different languages, to sync a speaker's voice to an animated character or to replace bad quality location recordings, Nuendo's integrated ADR will save you huge amounts of time and frayed nerves when recording dialog in the studio. CSV files created in Excel can be imported to Nuendo, where markers will be created for each take that needs to be spotted. Rehearse, record and review options are available for the comfort of the voice actor and recording engineer. A monitoring matrix with flexible settings for talent, recording engineer or editor is part of the system. The ADR session can then be exported as an AAF project. Even Foley recording is possible with this powerful solution, all included in Nuendo.
Merging Projects
Merging projects is an easy task within Nuendo, thanks to its many media management and organization capabilities. Nuendo supports import and export of track archives, import of multichannel stems and tracks from other projects, support for ADM files (import only) and copy paste between projects, as well as the ability to back up a whole project including all media files. To organize huge projects, Nuendo facilitates hiding and deactivating tracks while leaving them in the project for safe-keeping. Folder Tracks and coloring functions for tracks and events will help you to always have a good overview of the whole project, while finding specific passages in your project is just one mouse-click away, thanks to the cycle markers.
Mix and Deliver of Stems and Master
Nuendo offers advanced mixing capabilities and a powerful film mixing-style Automation system. Besides the included Anymix Pro surround panner, Nuendo's VST MultiPanner supports Dolby Atmos 9.1 and 7.1.4 mixing and other surround formats from 5.1 and 7.1 up to 22.2 and Auro 3-D. Over 100 professional plug-in effects and processors are part of the package, including a convolution reverb with many impulse responses, a high-quality channel strip and channel EQ, while the loudness track and loudness meter will help you keep control over your levels. And, depending on the delivery specifications, you can save a lot of time by exporting multiple stems based on cycle markers, while Multi-Master Batch Export for additional mixes in different languages can be done in one go.
visit developer website for more and videos please click here 
---