---
About
---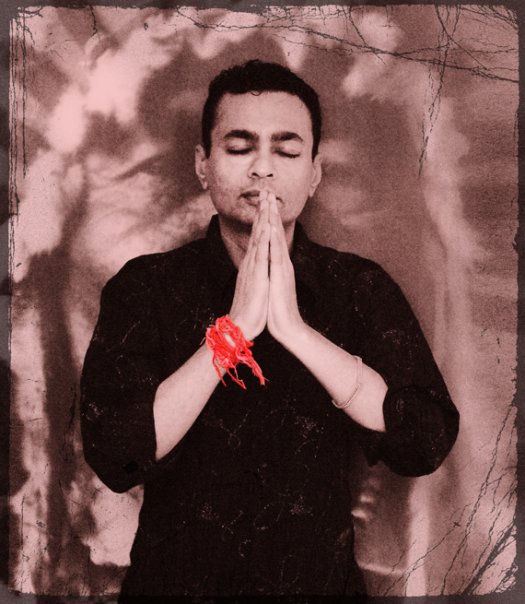 HOW DO YOU BEGIN TO SUCCINCTLY SUMMARISE A MULTIFARIOUS PERCUSSIONIST, MEDITATIVE PRODUCER, AND MULTI-INSTRUMENTALIST COMPOSER? PERHAPS IT SHOULD BE BY STATING THE OBVIOUS.
Sandeep showed a strong attraction to drums from a very early age. While his friends of the same age would be delighted by toys, Sandeep found no joy in these, but was fascinated with a Dholak (small drum) given to him by his father. His mother sang folk songs, and he would enjoy accompanying her on the Dholak, and with whatever cooking tools he could find with good-sounding resonant properties Another key development in his percussive career, was the gift of a set of Bongos from his brother. Along with this came the influence of more Western influenced music which was start of a broadening of the musical influences from which he drew inspiration.
At a performance at his local town hall of the All India Dance Show, Sandeep was spotted by Tansenji – a brilliant sitar and tabla maestro Being very impressed by Sandeep's Conga playing talents, Tansenji invited him to attend his classes, The training he then received over the next Four years, became a core basis of his fluent playing technique. To broaden Sandeep's playing listening appreciation Tansenji invited him to attend a concert by Pujya Saint Shree Kandasbapu. Sandeep was thoroughly inspired by this, and from this stemmed the beginning of a greater appreciation of this musical genre.
Also he developed a greater understanding of the relationship between percussion and melody, and how the moods of these two elements can best be combined to best effect. Sandeep was invited by Shree Babubhai Ranpura to Take Part In a Festival In Moscow. This one-year festival was a massive event, co-sponsored by the Russian and Indian governments, featuring 3000 acts all from the field of live folk and dance music. This led Sandeep to being much more involved in the field of dance. As a natural part of his evolution, this then introduced more 'groove' elements into Sandeep's playing style. This led on to Sandeep playing for Bollywood and TV documentaries based on theme of Rhythm.
Sandeep Raval is a man of many talents. But, fundamentally, he's a musician with a constant hunger for new aural adventures. His broad palate of drums and deft scores seamlessly meld syncopation with vivid imagination, grand theatricality, and a mischievous sense of humour.
There are his three albums, Worship Through Sound, Mosaic in Motion and most recent Drum Travel Double Album Collaboration with producer and world beat recording artist James Asher. Then he played an invaluable part in the production of Andrew Lloyd Webber's acclaimed musical, Bombay Dreams (scored by A R Rahman- Slumdog Millionaire).
Elsewhere, The Guardian heralded another stage blockbuster in receipt of Raval's rhythms, The Far Pavilions is a musical based on the novel by M.M. Kaye, as an outright success.
Whatever point in his story you start from, glancing back over the pages of Raval's life reveals a myriad of musical influences. From urban UK bass music, to traditional folk and Central Asian classical, chapters spanning continents contribute to his sonic compendium.
Born a British overseas citizen, Sandeep Raval had already realized his destiny in the spotlight with performances everywhere from Delhi to Moscow, and film work to boot, before arriving in the UK full time.
This early success was a sign of things to come. Determinedly Raval began striving to push the boundaries of sound as he crossed the globe's borders. Soon there was a home studio and a move to Northampton, followed by countless hours spent playing the perpetual insomniac.
Whether it's 5am or 1pm, in the studio or on stage, Raval's passion for production and performance leads to standout results. His second Mosaic tour, which saw conceptualised soundtracks played by a large ensemble to packed venues across the UK in 2011, left critics describing shows that were 'like nothing you've ever seen'.
Yet there is so much still to learn. Raval's constant evolution references everything from Jazz, Symphony, Dance, Meditative, R&B to century old Indian roots and experimental alternative, which is what makes him so vital. Enigmatic and wonderfully unpredictable, but unquestionably talented and consistently impressive, new avenues are nothing more than business as usual.
He maintains a love of the spiritual influences that have made such an impact on him during his life.
---
---